So Good Magazine #8
The Magazine of Haute Pâtisserie
---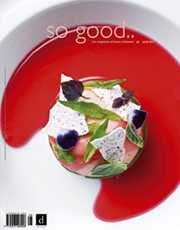 Fel évente megjelenő exkluzív cukrászmagazin, angol nyelven. A cukrász szakma legfelsőbb és "kortárs" szintjét képviselő magazin a világ legtekintélyesebb cukrászait, szakácsait, szakoktatóit, szakembereit mutatja be, csodás-művészi alkotásokon keresztül.
Bemutatásra kerülnek a kis műhelyek tagjai, a nagy szakmai szervezetek, valamint a világ legrangosabb pékségei, cukrászdái, éttermei, ínyenc üzletei, szállodái és iskolái, valamint a legjelentősebb alapanyag importőrök, forgalmazók, képviselők a kereskedelemben. A magazin tartalmául szolgáló receptek a lépésről-lépésre módszerrel kerülnek bemutatásra, kiegészítve sok szakmai magyarázattal, professzionális fényképpel, a technológiák későbbi használatát elősegítve. Érdekes interjúk, a legújabb trendek, legfontosabb nemzetközi események hírei teszik olvasmányosabbá a magazint, mindehhez egy kifogástalan, elegáns és modern dizájn 280 oldalon.

Az aktuális magazin szereplői, tartalma:
tickets-Albert Adrià, come in, taste and enjoy
Shawn Gawle, fresh and seasonal
Quentin Bailly, a chocolate-flavored dream
Yoshinori Matsushima, the competition master
Jürgen Koens, poetic cadence
Wolfgang Kießling, glo-cal identity
Julien Álvarez, a matter of balance
Maison Dalloyau-Yann Brys, leading a living legend
J.M. Rodríguez Guerola, cherry time
Sven Elverfeld, pleasure in giving pleasure
Takashi Ochiai, real japanese pastry, made in barcelona
Martin Lippo, the one-chef-band
Jean Michel Perruchon, savoir-faire's heir
Rolf Muerner, in search of new creations
Alon Goldman, israel's ambassador of sweet
Anna Polyviou, living pastry
Jean-Francois Devineau, the pastry globetrotter
Christophe Michalak, red-hot
Kirsten Tibballs, scenic metaphors
Carles Mampel, savory incursions
Joseph Baker, innovation from nostalgia
tidbits
Sam Mason, the roads less traveled
La Vie en Rose, the pastry queen story
Chris Ford, the workshop behind the lens
Terre Adélice, turning the small into large
guiness record for qzina's chocolate mayan temple
interview with Juan Carlos Arroyave from granja Luker
Kosár
A rendeléshez jelentkezzen be.