Szerző: Tristan Stephenson

Tristan a whisky eredetének nyomába indul, a desztillálás kivételes kínai úttörőivel kezdve, akik az orvosi 'aqua vitae' (az élet vize) felfedezése előtt 2000 évvel is tevékenykedtek, egészen a mai whisky megjelenéséig. 
---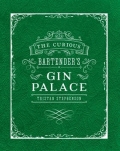 A The Curious Bartender's Gin Palace Tristan Stephenson italkeverő mester nagysikerű könyvsorozatának következő tagja. 
---
Tristan Stephenson visszatért, hogy világszinten is elismert koktélkeverő tudását használva újból felrázza a koktélvilágot, tökéletesített klasszikus koktélokkal és nevét fémjelző újragondolt alkotásokkal.
---

A The Curious Bartender sorozatban Tristan Stephenson kísérletezik és felfedezi a tökéletes koktél keverésének művészetét és bevezeti az olvasót azokba a modern fejleményekbe, amik ezen a bartending területén mentek végbe. 
---

Ismerje meg, miért vált a rum a világ egyik legnépszerűbb italává, a bestseller író és koktélkeverő mester Tristan Stephenson legújabb kiadványában.
---